The month of October is home to far more than spooky ghouls and goblins. We're talking about LGBTQ History Month. So buckle up peanut butter cups, we're about to dive in deep.
What is LGBTQ+ History Month?
Starting many years ago, 26 years to be exact, a group of teachers realized that their curriculums danced around LGBTQ history, and failed to give credit and praise to historical icons from the LGBTQ community. In fact, worldwide the LGBTQ+ community is the only community that does not have its history taught at home, in public schools, or in religious institutions. 
In an effort to educate today's youth, many who identify as LGBTQ+ themselves, LGBTQ+ History Month was born. 
Today, LGBTQ+ History Month celebrates the achievements of 31 lesbian, gay, bisexual, and transgender icons with one new figure being introduced each day of October. This civil rights statement allows the community to stand in their own spotlight to honor their extraordinary national and international contributions.
What other days in October are important to the LGBTQ+ community?
National Coming Out Day. October 11th
In 1988, Richard Elchberg and Jean O'leary founded "Coming Out Day " to raise awareness for the LGBTQ+ community and it's prominent civil rights movement. October 11th was chosen to mark the anniversary of the second National March on Washington for Lesbian and Gay Rights. 
Today, National Coming Out Day is observed throughout the United States and other countries around the world and used as an outlet for closeted LGBTQ+ members to embrace their community publically.
In fact, organizations like The Trevor Project have created valuable resources to support individuals who are preparing to come out to friends, family, or the general public. Most recently, The Trevor Project has published "COMING OUT: A Handbook for LGBTQ Young People" which contains helpful tips, FAQ's and advice for readers.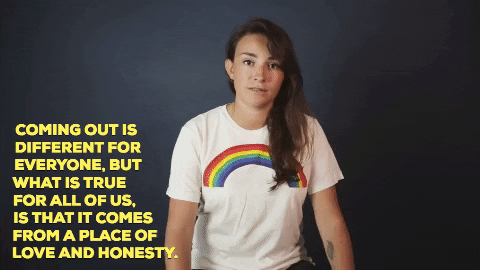 Spirit Day. October 15th
In support of LGBTQ+ youth, Spirit Day is celebrated across the United States as a way to take a united stance against LGBTQ+ bullying and harassment. Observers are encouraged to wear purple and spread important facts about the challenges LGBTQ+ youth face, such as:
70.1% of LGBTQ students report being verbally harassed.

71% of LGBTQ students report hearing homophobic remarks from teachers and/or school staff because of their gender expression

86% of LGBTQ youth said that recent politics have negatively impacted their well-being.

1 in 3 LGBTQ youth reported that they had been physically threatened or harmed in their lifetime due to their LGBTQ identity.
Intersex Awareness Day: October 26
To celebrate the first Intersex protest that occurred in Boston, MA, October 26th is dedicated to promoting human rights actions and to educating the public about the history of the intersex community. It was established in 2004 by Betsy Driver and Emi Koyama. 
Asexual Awareness Week: October 25 -31
This week, also known as ACE week, serves as an international campaign for raising awareness and expanding education on asexuality. This campaign was not founded until 2010, but since has made extraordinary progress including joining multiple organizations such as Asexual Outreach, and financing an educational documentary.
The latest political news for the LGBTQ+ community
Two recent political hotspots that heavily impact the rights of the LGBTQ+ community both hang from the judicial branch of government. 
Amy Coney Barrett has been known to oppose federal laws overseeing marriage equality and instead believes it should be left to state legislators. This opinion clashes directly with the famous Obergefell v. Hodges court case, which now may be revisited by a majority conservative Supreme Court. More on this here.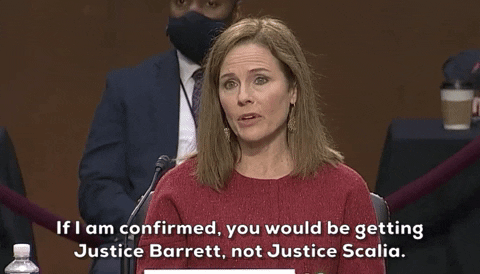 The second big headline is that of FULTON V. CITY OF PHILADELPHIA. On November 4th, the Supreme Court will be hearing a case surrounding the LGBTQ+ community and the foster care system. While there have been previous state bans preventing the LGBTQ+ community from being foster or adoptive parents.
If the Supreme Court does not affirm the lower court's decisions, this case could allow "private agencies that receive taxpayer-funding to provide government services — such as foster care providers, food banks, homeless shelters, and more — to deny services to people who are LGBTQ, Jewish, Muslim, or Mormon."
How to support the LGBTQ+ community
While the month of October should be a breath of fresh air for the LGBTQ+ community, where their attention is on learning and showcasing their proudest moments, 2020 has clouded it with political pressure. Now more than ever, it is important to not only tune-in but to find ways to show support to those whose rights are at risk. 
One way to show support is to divest in companies who have not shown any public support for the LGBTQ+ community and direct personal funding to those who have. Our team at Invested Interests is dedicated to providing investment portfolios that cater to what matters most, which is why our Human Rights and Diversity portfolio means so much to us this month.
If you're looking to realign your investment choices with your political motivations, we'd be more than happy to help. Connect with us here, and start investing in what matters.